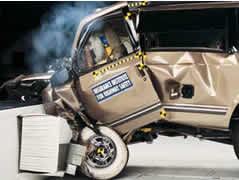 Safety Matters
Fluid Transfer Products, Inc. is a manufacturer of stainless steel braided TeflonŽ hoses. Like steel belted radial tires on your vehicle, steel-braided brake lines provide a similar improvement in safety. Unlike the factory-original rubber brake lines that came on your vehicle, stainless steel braided TeflonŽ brake lines don't expand and contract under braking, stopping the vehicle with less brake pedal travel, without locking the brakes. Rubber brake lines become brittle over time and are prone to cracking and can be extremely dangerous.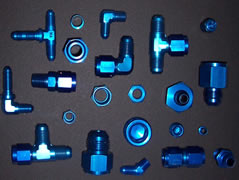 Adaptors & Fittings
Our passion goes beyond automotive safety. That's why FTP offers a broad range of AN, banjo bolts and fittings, metric and hardline plumbing components for racecars, hotrods, ATV's, trucks and SUV's, etc. We also have access to one of the largest selections in the world of automotive plumbing components. One thing is for sure, if we haven't got it in stock, we'll do everything we can to find it for you.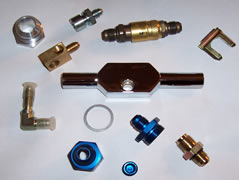 FTP Dealer Support...
FTP offers custom hydraulic hose assemblies, and we can also provide custom parts, custom packaging and drop-shipping to meet the needs of your specific customer's requirements; ideal for motorcycle dealers, truck specialty dealers, import tuners, ATV dealers, turbo-charger dealers, and manufacturer's rep agencies.
Custom hose assemblies
Whether you need 10 dash 6 oil pressure lines, or 10,000 pre-made dash 3 assemblies for automotive, industrial, or commercial application, FTP has the experience and capacity necessary to meet your requirements. Once we build a line for you, we will create a personal kit number for you, including all the specifications and materials lists. Re-orders are a snap, and it also helps us to anticipate your needs in determming our stock mix. Let FTP provide a quote for your pre-made line assemblies. Call us...we can help.