At FTP our primary focus is high-pressure, high-performance hydraulic hose assemblies for the automotive aftermarket, motorcycle aftermarket and OEM. Our kits are guaranteed to be of equal or superior quality to ANY of our brand name competitors. FTP is a family-owned engineering and manufacturing company. Our goal is to offer you the best quality products at fair prices. We believe we have an obligation to conduct business with highest degree of honesty and integrity and our products are guaranteed for life.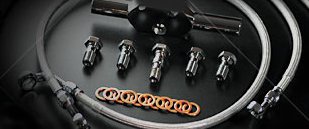 FTP Plumbing
Our specialty is stainless steel braided Teflon hose, sizes dash 2 through dash 6. For hydraulic brake systems, FTP offers dash 3 braided line with PrismCoat transluscent colored PVC sheathing. Dash 2 is not yet available with Prism Coat, however we do offer a variety of other types of sheathing to add color and to prevent abrasion to adjacent painted surfaces if required.
Dash 2
Dash 2 historically is used to improve braking performance by adding additional "firmness" to the brake pedal. On open-wheel formula style race cars, dash 2 is used in combination with dash 3. A typical installation would involve routing dash 3 line from the front of the chassis to the rear, where it splits off to two (2) dash 2 lines that lead directly to quick-connect dry-breaks, then to the brake calipers. Additionally, Dash 2 assemblies are approximately 20% lighter than dash 3.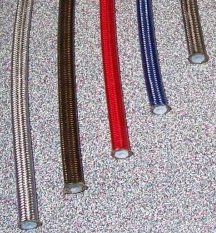 FTP can offer you custom hydraulic assemblies with clear coat protection, Prism Coat (color) protection, or with no covering. For most automotive brake and clutch lines, there is no need for a covering.
Custom Hose Assemblies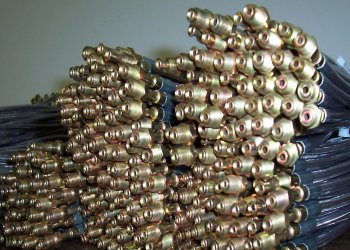 Whether you need 10 dash 6 oil pressure lines, or 10,000 pre-made dash 3 assemblies for automotive, industrial, or commercial application, FTP has the experience and capacity necessary to meet your requirements. Once we build a line for you, we will create a personal kit number for you, including all the specifications and materials lists. Re-orders are a snap, and it also helps us to anticipate your needs in determining our stock mix. Let FTP provide a quote for your pre-made line assemblies. Call us...we can help.